The value of a college degree is once again the subject of a study, this time by Georgetown University's Center on Education and the Workforce, which recently released its report.
This is at least the fourth study/survey on the broader issue of degrees released in the last couple of months. HechingerEd wrapped up the findings of the first three in a post last week.
Unlike the previous surveys/study, the Center on Education and the Workforce research focused mainly on the difference in earnings among people who earn various degrees. But it also appears to lay to rest the question of whether a college degree – specifically, a bachelor's degree – is worth it financially.
According to the study, a person with a bachelor's degree earns, on average, 84 percent more than a person with just a high school diploma.
But the college payoff can be even higher, if you choose the right degree, the study finds.
The study looked at 171 different degrees and what graduates earned, using new data from the United States Census. The results show the difference between the highest- and lowest-paying degrees can be more than 300 percent.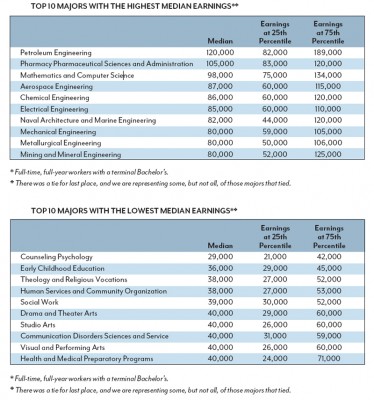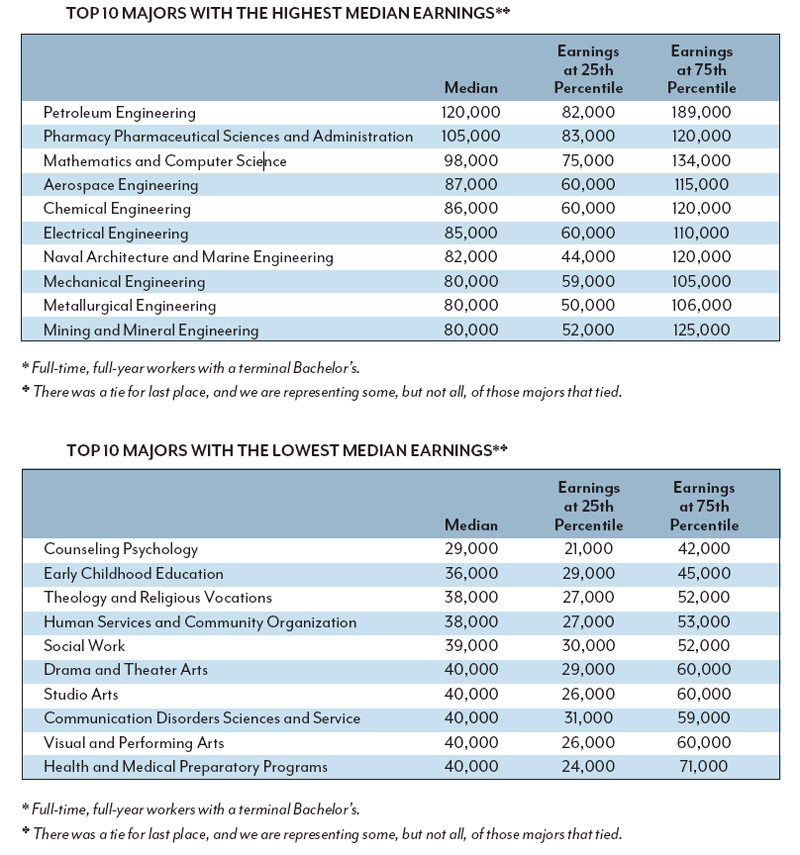 Not surprisingly, the list of the highest-earning degrees is jam-packed with engineering and computer science degrees. In fact, just one of the top degrees – pharmacy pharmaceutical sciences and administration — wasn't related to those two fields.
The list of lowest-paying degrees is a bit more varied, and includes education, arts and psychology degrees.
Other notable findings:
If you are looking for a degree that is "recession-proof," you might consider geological and geophysical engineering, military technology, pharmacology and school counseling. There is virtually zero unemployment among people holding those degrees, the study found. Degrees with the highest unemployment levels include social psychology, nuclear engineering and education administration and supervision, according to the study.
Women earned less than men in virtually all majors. There were just three degrees where they out-earned men (information services, physiology and visual and performing arts), although for many of the degrees the sample size was too small for comparison.
Women earn most of the degrees awarded in education (77 percent), psychology and social work (74 percent) and health-related majors (85 percent). They have made gains in the percentage of those earning both math (44 percent) and biology (57 percent) degrees.
The study includes the highest-paying degrees for various racial groups, including whites (petroleum engineering), blacks (electrical engineering), Hispanics (mechanical engineering) and Asians (pharmacy pharmaceutical sciences and administration).
Read the full report (pdf).