The value and cost of a college diploma have been popular subjects in the last few months. No less than three surveys/studies have been released that look at the issue.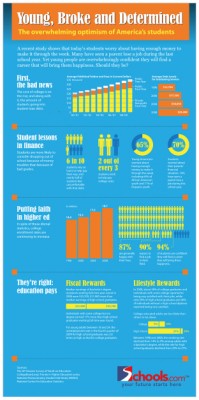 Youth on Education
The Associated Press and Viacom teamed up to do a phone survey of 18-24-year-olds for their thoughts on higher education. The survey showed they are worried about the college costs and are having to work to pay for college — but they are overwhelmingly optimistic about their futures.
Schools.com then whipped up this nice infographic that lays out the highlights.
Who Wins? Who Pays? The Economic Returns and Costs of a Bachelor's Degree
Do college degrees pay off for students? Taxpayers? That's what the American Institutes for Research set out to discover. The research organization pored over publicly available numbers and came up with some answers.
Community College Spotlight blogger Joanne Jacobs summed up their findings: "Bachelor's degree holders get a good return on their investment.  But taxpayers can be losers."
Is College Worth It?
The Pew Research Center and the Chronicle of Higher Education teamed up for phone and online surveys that looked at whether a college education is worth the cost.
Like the AP-Viacom survey, the results indicate some doubts about the cost-effectiveness of college, but still a vast majority seemed to think it was a good investment.
According to the Pew/Chronicle surveys, more than half — 57 percent, to be precise — of people rated college either a "poor" or "only fair" value. But among the same people, 86 percent said they felt their college degree was a good investment, and 94 percent of parents said they expect their children to attend college.
The report is also loaded with great information on college-going rates, college costs, student debt and more.