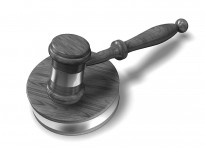 A lawsuit filed today alleges that California's school funding system is unconstitutional, and it might hint at things to come around the country. A surge of similar cases and subtle changes in the legal arguments of such cases are possible, experts say.
Public Advocates, the San Francisco-based public interest law firm and advocacy group that filed the suit on behalf of parents, students and several grassroots organizations, claims that California's current funding system "fails to provide children with an opportunity to obtain a meaningful education."
Many of California's public schools are doing poorly by any measure. On national standardized tests, the state often ranks among the worst in the country – joined by Mississippi and Alabama. Even affluent, white students in California perform worse than their peers in other states.
These statistics would be troublesome at any time, but the state is currently facing a $19 billion deficit and is scrambling to fund many public services. And headlines about teacher layoffs and reduced services have dominated the education news coming out of the state for months now.
The lawsuit ultimately hopes to force the legislature to throw out its funding system and completely revamp it to improve the quality of education in the state. A similar suit, Robles-Wong v. California, was filed on behalf of state school boards and teachers' unions earlier this year.
Eric Hanushek of Stanford University predicts that the Public Advocate suit is part of a "new flood of adequacy suits partly pushed by the current recession and fiscal problems." Although, as he noted, California has been ripe for such an action for years, school funding has taken big hits in many states as a direct result of the recession. Other lawsuits are also in the works in Florida, Illinois and Colorado.
Even though an uptick in these types of lawsuits may be under way, there has been a steady string of them over the past two decades. In the 1970s, Serrano vs. Priest set the stage for a number of educational equity cases to follow. In the decision, the California Supreme Court ruled that the state's method of funding schools was unconstitutional because poorer communities had to pay taxes at higher rates to secure the same, if not lesser, educational opportunities for their students.
In 1989, in Rose v. Council for Better Education, the Kentucky Supreme Court ordered the state legislature to overhaul its schools and increase spending. This opened the door to so-called "adequacy" lawsuits, paired still with an equity claim, that argued for the right of each child to have access to an adequate education.
While these types of lawsuits show no signs of disappearing, the tone may change slightly. Today, people "can't just say give us more money," Hanushek said. "They have to make the case that in fact it's going to be used well."
Michael Rebell, Executive Director of the Campaign for Educational Equity at Teachers College, Columbia University, advocates for new strategic approaches to these adequacy cases in light of the recession. Instead of fixating on a set amount of money, he hopes to make legislatures and governors pay more attention to reductions.
They should "look closely at what they're cutting and how they're cutting it," Rebell said. "Very few legislators and governors attempt to look at the issue that way."
In keeping with this theme, the Public Advocates lawsuit does not specify a dollar amount that must be awarded to the schools, but rather pushes for an overhaul of the way the money is spent. The group also calls for the development of adequate data systems that can measure programs and monitor the impact of money being spent.
In the complaint, the plaintiffs charge that California's school finance system is "complex, irrational and wholly divorced from the actual costs of providing a meaningful education to all students." Looking specifically at the rationality of the funding, as Robles-Wong v. California also does, may even introduce another type of case, according to Rob Reich of Stanford University.
"It represents something new on the horizon," he said. "The question is, is the funding scheme even rational … It's an even less demanding standard than an equality standard."
But regardless of the direction this suit ultimately goes, it likely has a long road ahead. And it won't be without opposition. John Eastman, former dean of the Chapman University School of Law and current candidate for California Attorney General, plans on looking for taxpayers to represent and intervening in the lawsuit.
"This thing should be viewed as frivolous," he said. There is "no constitutional mandate that is undermined by the current funding schemes."