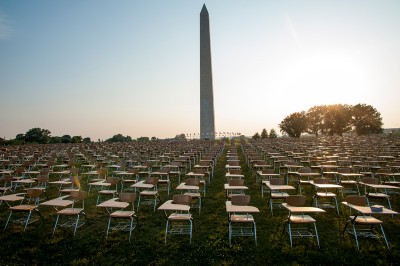 College Board, the group best known for administering the SAT, this week launched "Don't Forget Ed," an effort to make presidential candidates pay more attention to education, by setting up 857 empty school desks on the National Mall in Washington, D.C. The desks represent the number of students who drop out of high school each hour of each school day, according to a 2007 Education Week statistic. (Although, as the Associated Press reports, that figure may be off.)
The organization also gathered signatures in an online petition directed at the presidential candidates. The petition reads, "If you want my support, I need to hear more from you about how you plan to fix the problems with education. And not just the same old platitudes. I want to know that you have real, tangible solutions, and that once in office, you're ready to take serious action. I'll be watching your acceptance speech at your party's convention." Over 22,000 people have signed so far.
It was still a quiet week for education on the campaign trail, though, with most of the action happening at Capitol Hill. President Obama and his administration struck a deal with Congress to keep a Washington, D.C., school voucher program alive.  The presumed Republican nominee Mitt Romney and other Republicans have criticized Obama for trying to cut funding for the Opportunity Scholarship Program, which allows low-income students in the District to apply for scholarships to be used at private schools.
The deal, worked out with House Speaker John Boehner (R-OH), requires an increase in "the current enrollment of about 1,615 to approximately 1,700 students for the coming year to allow for a statistically valid evaluation of the program," according to a written statement by Education Secretary Arne Duncan on Monday. He clarified the next day that this did not mean the Obama administration had changed its position on vouchers, which it opposes.
Obama has also been battling Congress on student loans this week. If an agreement is not made by July 1, the student loan interest rate will double from 3.4 percent to 6.8 percent. Obama and Republican leaders both say they would like to freeze the interest rate, but have not agreed on how to pay for it. Romney has also said he supports freezing it at 3.4 percent.
"We're 10 days away from nearly 7.5 million students seeing their loan rates double because Congress hasn't acted," Obama said in remarks to a group of students at the White House. "This should be a no-brainer. It should not be difficult. It should have gotten done weeks ago."
Republicans have said that they are willing to find a solution, but say the administration is being uncooperative. As the Washington Post reports: "In Capitol Hill, GOP leaders complain that Obama's public remarks are at odds with his administration's refusal to engage in serious negotiations on how to pay for $6 billion in subsidies for the federal Stafford loans. Republicans say that they are ready to make a deal and have offered proposals to Democrats but that the White House has blown them off in favor of Obama's making public speeches."