Joel Klein, one of the longest-serving chancellors of the New York City public schools, is stepping down. Klein was appointed in 2002, when the state legislature gave Mayor Michael Bloomberg control of the city's school system. He oversaw a sweeping overhaul of the city's public schools that was both lauded and condemned. Supporters say his reforms led to significant increases in student achievement and the city's graduation rate, but his many critics say he was often dismissive of community concerns and that some reforms were more harmful than helpful.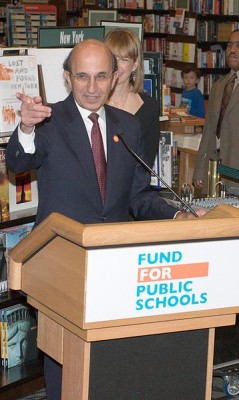 Klein's most significant moves include reshaping the school's central bureaucracy (twice), giving more responsibility and authority to principals in exchange for more accountability, opening more charter schools, giving large raises to teachers, and reformulating how funding is allocated to schools (by attaching money to students based on attributes like their low-income or special education status).
He was aggressive in closing schools based on their standardized-test performance, a move that enraged many parents. The closures were also condemned by some researchers because the new schools that opened in their place often did not serve as many high-needs student. Yet at the same time, graduation rates rose to 63 percent, up from 47 percent, according to state calculations.
Of Klein's replacement, Cathleen Black, former publisher of USA Today, Bloomberg was quoted by Gotham Schools as saying: "I know the first thing she'll want to do is reach out to parents, teachers, principals and administrators to get the benefit of their wisdom."
Although Klein generally enjoyed support from the city's editorial boards (Interestingly, he's going on to take a job at News Corps, owner of the New York Post, one of this biggest fans), he weathered a lot of rocky moments, from school-bus routing scandals to a major drop in the city's test scores after they were graded more strictly this year. As a former trial lawyer, he defended his policies rigorously, but his critics often accused him of being tone-deaf.
The timing is interesting: Tomorrow, big-name researchers from around the country are convening in New York City to critique Klein's reforms. The presentations will examine things like his department's relationship with parents and the community and his efforts to delegate more authority to individual schools. Many of the papers that will be presented seem sympathetic to the ideas behind Klein's reforms, but they also find flaws in how some reforms were implemented and sold to the public. Klein is scheduled to respond to the findings at the end of the day.
I covered Klein for a year in 2006 as a reporter for the now-defunct New York Sun. As I was covering the school system as a newspaper reporter, it sometimes seemed as if the education department's reforms could be spontaneous –- the decision to dismantle a system of regional offices, which the city had spent four years creating, in favor of a whole new bureaucratic design, seemed to happen without warning, for example.
I recently wrote a story for Washington Monthly that looked back at Klein's secondary school reforms. As I interviewed city officials about their efforts, I discovered some method to what occasionally came across as madness, to put it glibly. That is, the vision wasn't always clear to those of us covering it, or to the people it affected –- teachers, parents, students –- but that's not to say there wasn't a road-map that the department was following. It's also not to say that Klein got it right every time, as the folks I talked to acknowledged.
The merits of their reforms can be debated, but there's no question that Klein, and Bloomberg, made the city an important player in the education reform debate nationally. In many ways, New York City has been a Petri dish for some of the big education ideas that are now being replicated across the country, from transforming how teachers are compensated to the aggressive school-turnaround models that the federal government is promoting.
Stay tuned to The Hechinger Report – we'll be rounding up the coverage (for ongoing reports from the press conference today, be sure to check out Gotham Schools), listening to what Klein has to say tomorrow and also adding more in-depth analysis about what this means for the education reform movement nationally.