A few weeks ago, I drove past a new subdivision of large homes at the edge of the Denver exurbs with a big sign advertising the opening of a charter school to serve the community. Although the development was in the flight path of the Denver International Airport, this was not the sort of poor, urban neighborhood where stars of the charter school movement like KIPP and Uncommon Schools have concentrated their efforts.  This was a neighborhood of brand-new, two-story houses with plenty of space on landscaped streets.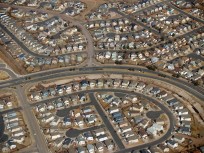 It left me wondering if the dual missions of the charter school movement – 1) freeing schools from government and union red tape and 2) improving education for disadvantaged students – might clash as the number of schools grows. For example, do middle-class neighborhoods with access to solid public school systems need them?
Charter schools are also attracting home schoolers. The New York Times posted a story yesterday about the unregulated world of online charter schools, which appear to cater to families who home-school their children. There are about 200,000 online charter school students, according to the story, and many of the operators are for-profit groups. Apparently, despite the lack of cafeterias, gymnasiums and other amenities, they aren't always cheaper than regular brick-and-mortar schools.
At the same time, charter schools have popped up that serve primarily white, middle-class children fleeing the regular public schools. In North Carolina, the schools have been particularly controversial.
The majority of charter schools still serve mostly urban poor and minority students, but with the freedom inherent in the charter school model, maybe that won't always be a given.
Is it a good thing that charter schools have branched out to serve a broader population, or could it undermine the goal of helping the neediest students?